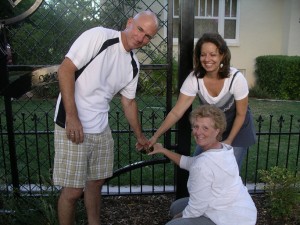 Love, compassion, trust, and pride are but a few of the many emotions that we as human beings feel towards each other.  These emotions connect us, but it is often difficult to adequately convey their strength and significance to those we love.  Sometimes mere words aren't enough, and in those occasions a unique gift that symbolizes our love speaks what words can't.
Following the example of this beautiful ancient custom, our modern world can now connect through life's most precious moments. The custom engraved love padlock with your own personal message is a representation of love between two people; it is the healing of broken hearts, the bond between friends, and the solidarity within a family—more simply put: it is togetherness. It is not solely about the lock itself, but much like a diamond ring it represents the lasting bond of marriage, so does the LoveLock symbolize a movement towards love, acceptance, and unity.
It is our desire that each LoveLock placed on a "Lovescape" will bring joy and create lasting memories which future generations can enjoy and embrace.
Connecting two hearts together…Love will be forever